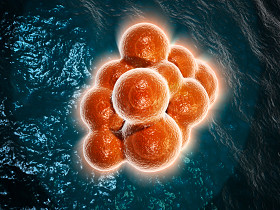 As hematopoietic cell transplantations become more prevalent, it is important to ensure the safety of harvesting bone marrow (BM) or peripheral blood stem cells (PBSC).
BM donors undergo anesthesia in the hospital setting, and PBSC donors are given filgrastim for 5 days prior to apheresis to assist in collection of the stem cells.  A recent study in BLOOD followed 2,726 BM and 6,768 PBSC donors for a median follow-up time of 36 months. Researchers found that BM donors had an increased risk for serious adverse events (2.38% of BM vs 0.56% for PBSC, p<0.001) and that women were twice as likely to experience an adverse event as compared to men. Furthermore, the incidence of cancers, autoimmune diseases, and strokes were similar for BM or PBSC donors, and cancer incidence was lower than the general population for PBSC donors. Further studies, however, are needed to evaluate the risks in very young and older donors.
Reference
1. Pulsipher MA, Chitphakdithai P, Logan BR, et al. Lower risk for serious adverse events and no increased risk for cancer after PBSC vs BM donation. Blood 2014; 123(23): 3655-63.