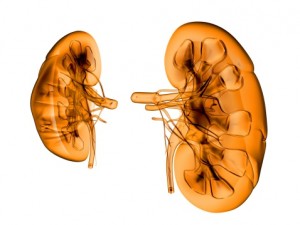 Therapeutic plasma exchange reduces donor-specific antibodies in kidney transplant patients; however, there is no consensus for the exact timing and number of treatments. In a retrospective study, donor specific HLA antibodies were examined for 56 kidney transplant patients who received a mean of 6 plasma exchange therapies (range: 2 to 11). Based on mean fluorescent intensities of specific HLA antibodies, almost 66% and 84% of patients had donor specific antibodies to HLA Class I and Class II, respectively; 50% of all patients had antibodies to both. One to three plasma exchange therapies reduced donor-specific antibodies by 25%. Four to six plasma exchange therapies reduced the donor-specific antibodies by 35%, but most of the improvement was seen in HLA Class I antibodies. Creatinine levels decreased only minimally, but younger graft age correlated with lower levels. In summary, plasma exchange therapy is an effective method to protect kidney function in transplant recipients with high donor specific antibodies.
Reference
1. Yamada C, Ramon DS, Cascalho M, Sung RS, Leichtman AB, Samaniego M, Davenport RD. Efficacy of plasmapheresis on donor-specific antibody reduction by HLA specificity in post-kidney transplant recipients. Transfusion 2015;55: 727-35.
Transfusion offers CME credit for this study! Log on at www.wileyhealthlearning.com/trf.