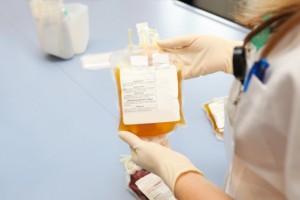 As part of the NHLBI Recipient Epidemiology and Donor Evaluation Study-III (REDS-III), plasma transfusion records from 10 US hospitals during a one year period were reviewed to determine optimal dosage and indications for use. Plasma transfusions are often used to reverse coagulopathy or prevent bleeding during surgery. Over 72,000 units of plasma were transfused to 9,269 adult patients with a median dose of 2 units (IQR, 2-4), of which 80% were issued to patients in the general ward or intensive care unit. This translated into a median dose of 7.3 mL/kg (IQR, 5.5-12.0) based on patient body weight, which is less than the optimal dose needed to correct international normalized ratios (INR). The median pre-transfusion INR was 1.9 (IQR, 1.6-2.6) which dropped to 1.6 post-transfusion (IQR, 1.4-2.0); the magnitude of INR correction increased with plasma dose. Differences were not seen based on the type of plasma transfused. Clinical trials are needed to determine the optimal doses and laboratory value for plasma transfusions.
Reference
1. Triulzi D, Gottschall J, Murphy E, Wu Y, Ness P, Kor D, Roubinian N, Fleischmann D, Chowdhury D, Brambilla D, NHLBI Recipient Epidemiology and Donor Evaluation Study-III. A multicenter study of plasma use in the United States. Transfusion 2015;55: 1313-9.
Transfusion offers CME credit for this study! Log on at www.wileyhealthlearning.com/trf.