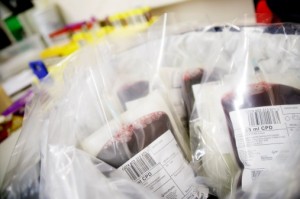 Several large, randomized trials revealed that restrictive transfusion policies are safe for critical care patients and patients who have had hip surgery. However, data have been unclear for patients with cardiovascular disease.
In a pragmatic, open-labeled cluster randomized feasibility trial, researchers randomly assigned six United Kingdom hospitals to either a restrictive red blood cell (RBC) transfusion policy (hemoglobin < 80 g/L) or liberal (hemoglobin < 100 g/L) transfusions for acute upper gastrointestinal bleeding patients. Over six months, 403 patients at three hospitals received treatment with the restrictive policy, and 533 patients at three other hospitals received liberal transfusions. Although protocol adherence was higher in the restrictive group (96% vs 83%, p=0.005), no significant differences in clinical outcomes were observed. Fewer patients received RBCs and fewer units were transfused in the restrictive group, though differences were not significant. Larger randomized trials, including cluster trials, are needed to evaluate the safety of restrictive transfusion policies in patients with acute upper gastrointestinal bleeding.
Reference
1. Jairath V, Kahan BC, Gray A, Dore CJ, Mora A, James MW, Stanley AJ, Everett SM, Bailey AA, Dallal H, Greenaway J, Le Jeune I, Darwent M, Church N, Reckless I, Hodge R, Dyer C, Meredith S, Llewelyn C, Palmer KR, Logan RF, Travis SP, Walsh TS, Murphy MF. Restrictive versus liberal blood transfusion for acute upper gastrointestinal bleeding (TRIGGER): a pragmatic, open-label, cluster randomised feasibility trial. Lancet 2015 Jul 11;386(9989):137-44.