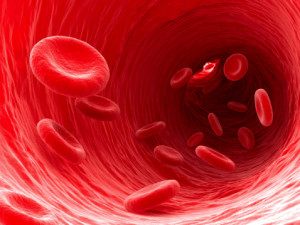 Thrombotic microangiopathy (TMA) encompasses several overlapping clinical syndromes with different etiologies, based on a common pathologic lesion; TMA symptoms include but are not limited to consumptive thrombocytopenia with purpuric capillary bleeding, microangiopathic hemolytic anemia (MAHA), and microvascular thrombosis.
Hematopoietic stem cell transplant associated (TA)-TMA has an exceedingly high mortality rate with limited therapeutic options.  In a new study published in TRANSFUSION, Fujiwara and colleagues retrospectively evaluated 254 hematopoietic stem cell transplant patients for development of TA-TMA and subsequently treatment and clinical course.  Among the 16 patients with TA-TMA, 9 were initially treated with recombinant thrombomodulin and 7 were treated with standard first-line treatment.  While 7 of 9 patients (77.8%) treated with recombinant thrombomodulin recovered from TA-TMA without complications, 0 of the 7 patients (0%) with standard treatment recovered.  Further research is needed, but recombinant thrombomodulin may provide assistance in treatment of TA-TMA.
Reference
Fujiwara, Y. Maeda, Y. Sando et al. Treatment of thrombotic microangiopathy after hematopoietic stem cell transplantation with recombinant human soluble thrombomodulin. Transfusion 2016 [Epub ahead of print] doi: 10.1111/trf.13437.
Transfusion offers CME credit for this study! Log on at www.wileyhealthlearning.com/trf.