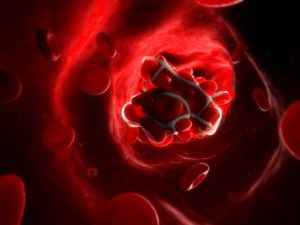 Thrombotic thrombocytopenic purpura (TTP) is a rare blood disorder caused by a lack of ADAMTS13 activity, which normally cleaves the von Willebrand factor. TTP patients have increased risk of thrombosis leading to blockage of blood flow to major organs. TTP is fatal if not treated quickly by plasma exchange.  However, diagnosis of TTP by testing for ADAMTS13 activity is time and resource intensive, and a more rapid method to diagnosis TTP is needed.  A new scoring system called PLASMIC was developed to predict ADAMTS13 deficiency.  Briefly, the model was developed by utilizing 29 laboratory-derived variables from 214 patients with thrombotic microangiopathy, 62 (29%) of which had TTP.  Five independent variables were identified as highly predictive by multivariable regression including platelet count <30 x 109 per L, creatinine <2.0 mg/dL, international normalized ratio (INR) <1.5, mean corpuscular volume (MCV) <90 fL, and hemolysis.  Two additional variables (cancer history and heamopoietic stem cell transplant or solid-organ transplant) were included in the model because of their high negative predictive value.  The PLASMIC scoring system was validated in two different cohorts, and when used in conjunction with clinical evaluation may help to quickly diagnose new TTP patients.
Bendapudi PK, Hurwitz S, Fry A, Marques MB, Waldo SW, Li A, Sun L, Upadhyay V, Hamdan A, Brunner AM, Gansner JM, Viswanathan S, Kaufman RM, Uhl L, Stowell CP, Dzik WH, Makar RS. Derivation and external validation of the PLASMIC score for rapid assessment of adults with thrombotic microangiopathies: a cohort study. Lancet Haematol 2017.
2.  Jamme M, Rondeau E. The PLASMIC score for thrombotic thrombocytopenic purpura. Lancet Haematol 2017.