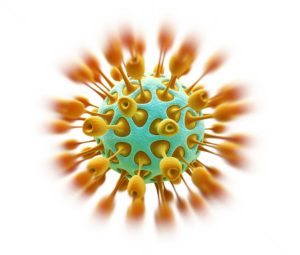 Many observational and case studies have suggested that convalescent plasma may have a therapeutic role in the treatment of influenza and other infectious diseases.  Recently, researchers from 29 U.S. medical centers performed the first clinical trial to test the safety and efficacy of immune plasma (plasma collected from individuals with high antibody titers to influenza) to treat influenza in children, adults and pregnant women.  Over 5 years, 98 influenza patients were enrolled and randomly assigned to receive either two units of compatible immune plasma in addition to standard care (which included antivirals) or standard care alone. Two-thirds (67%) of patients who received immune plasma had normal respiratory function after 28 days compared to only 53% of patients who received standard care alone (hazard ratio=1.71; 95% CI, 0.96 – 3.06; p=0.07). Although the effects of treatment with immune plasma were not significant, this finding is encouraging when considering the study was underpowered.  It should also be noted that patients who received immune therapy had significantly fewer adverse events than those who received standard care alone (p=0.04).  A new randomized trial is now underway to further access this promising therapy to treat influenza.
References:
Beigel JH, Tebas P, Elie-Turenne MC, Bajwa E, Bell TE, Cairns CB, Shoham S, Deville JG, Feucht E, Feinberg J, Luke T, Raviprakash K, Danko J, O'Neil D, Metcalf JA, King K, Burgess TH, Aga E, Lane HC, Hughes MD, Davey RT, Team IRCS. Immune plasma for the treatment of severe influenza: an open-label, multicentre, phase 2 randomised study. Lancet Respir Med 2017.
Scott D, Epstein JS, Hayden FG. Serotherapy for patients with severe influenza. Lancet Respir Med 2017.