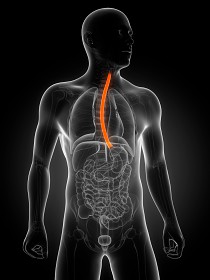 As reported in Nature Communications, researchers successfully transplanted tissue-engineered esophagi in rats.
After harvesting esophagi from donor rats, researchers disrupted the cells leaving a scaffold with native mechanical and chemical properties which were reseeded with bone marrow mesenchymal stromal cells from the recipient rats. Adhering cells had low immunogenicity and did not induce adverse immune responses. The grafts also started to show organ-specific characteristics after three weeks in culture. The tissue-engineered esophagi were then successfully transplanted into rats and over two weeks showed regeneration of the epithelium, muscle cells, nerves, and blood vessels. Currently, the only treatment available for esophageal cancer, congenital disorders, or trauma to the esophagus is reconstruction of the esophagus with tissues harvested from the intestine or stomach. A tissue-engineered esophagus could be advantageous for hundreds of thousands of patients.
Reference
1. Sjoqvist S, Jungebluth P, Ling Lim M, et al. Experimental orthotopic transplantation of a tissue-engineered oesophagus in rats. Nature communications 2014; 5: 3562.