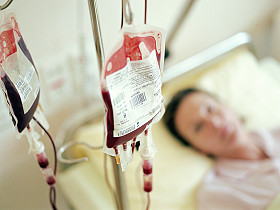 In non-trauma cases, the decision to transfuse is usually made jointly between the patient and the physician. A recent survey-based study from one US hospital found that both patients (N=294) and physicians (N=73) assume different risks regarding transfusions.
Twenty percent of the patients and almost 40% of the physicians surveyed considered transfusions as "very often risky" or "always risky." However, when asked about 5 specific adverse events that can occur during transfusions, physicians had fewer concerns than patients. They also found that certain patient populations, specifically African Americans or patients with a high school education or less, had a greater perceived risk of transfusion complications. Better education about the risks of transfusions is needed for both patients and physicians.
References
1. Toledo P. Shared decision-making and blood transfusions: is it time to share more? Anesthesia and analgesia 2014; 118(6): 1151-3.
2. Vetter TR, Adhami LF, Porterfield JR, Jr., Marques MB. Perceptions about blood transfusion: a survey of surgical patients and their anesthesiologists and surgeons. Anesthesia and analgesia 2014; 118(6): 1301-8.